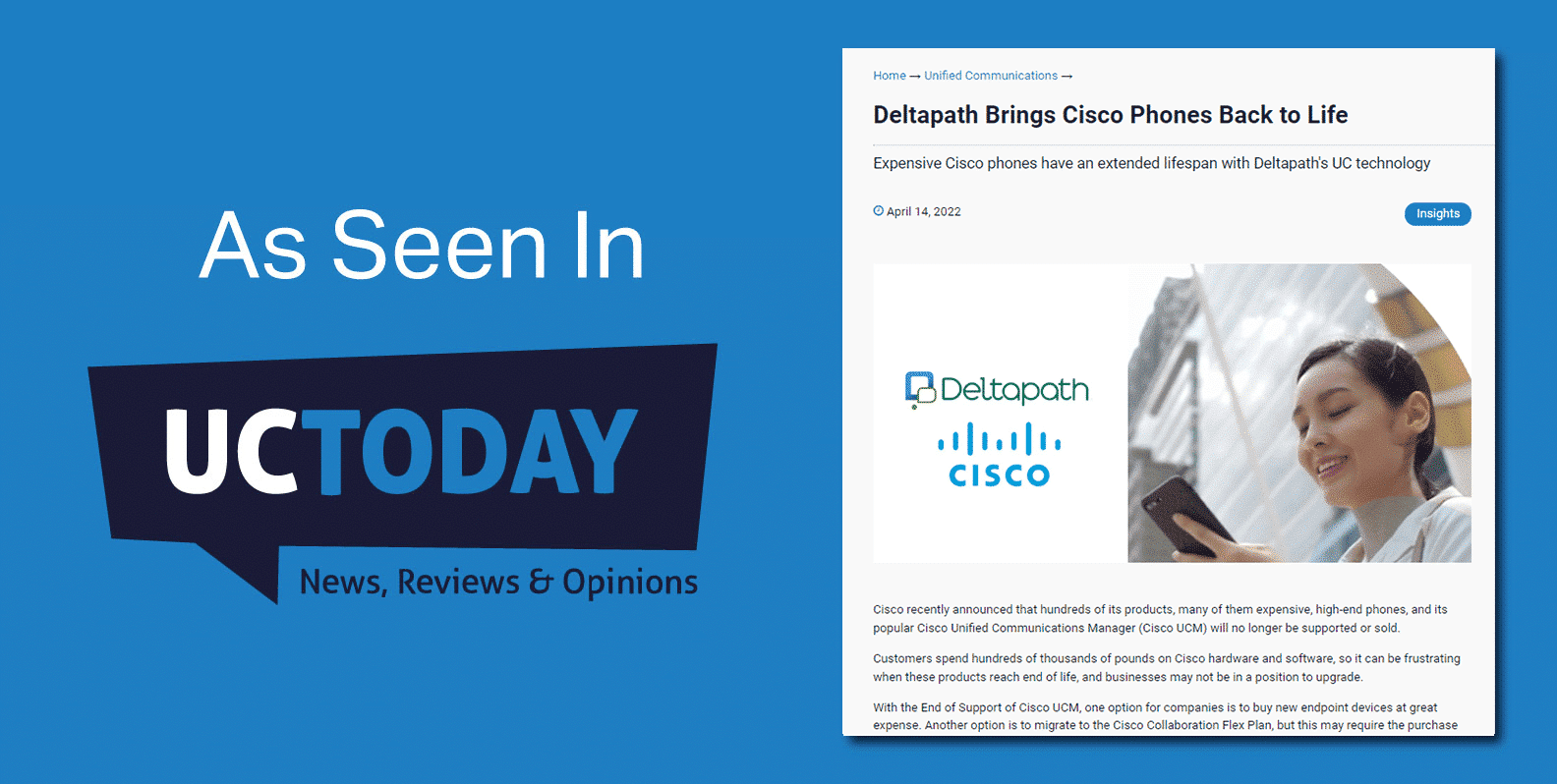 Expensive Cisco phones have an extended lifespan with Deltapath's UC technology 
Cisco recently announced that hundreds of its products, many of them expensive, high-end phones, and its popular Cisco Unified Communications Manager (Cisco UCM) will no longer be supported or sold. 
Customers spend hundreds of thousands of pounds on Cisco hardware and software, so it can be frustrating when these products reach end of life, and businesses may not be in a position to upgrade. 
With the End of Support of Cisco UCM, one option for companies is to buy new endpoint devices at great expense. Another option is to migrate to the Cisco Collaboration Flex Plan, but this may require the purchase of new server hardware, among other costs. 
The unified communications provider, Deltapath, enables companies to continue using costly Cisco phones after reaching their so-called 'end-of-life'. By installing Deltapath's UC Solutions, customers can use Cisco phones indefinitely. 
Ignoring End of Life of a mission-critical communication server isn't an option for many businesses. A company would have no protection against any newly discovered security vulnerabilities on such an important communication platform through which sensitive and confidential information passes. 
David Liu, Founder and CEO of Deltapath, said: "By opting not to upgrade, it causes security vulnerabilities. It's OK if you don't want the latest features, but it's not OK if you don't want the latest security protections and updates as systems evolve. 
"New vulnerabilities are discovered, and they are patched, and if you have a system that's no longer developed, no longer supported, no longer maintained, then you really have no options." 
The last date of software maintenance releases such as bug fixes and security updates for Cisco UCM was 23rd January 2022. Cisco offers its own solution called the Collaboration Flex Plan as an option to transition to a new platform. 
Liu explained: "If Cisco customers have older models of Cisco phones, they have to buy brand new phones with a huge upfront cost associated. 
"This leads to another problem: when you migrate to this Cisco Collaboration Flex subscription, some of the customers, if they have older servers, actually have to buy new servers as well, and that's another cost associated"
Features of the Deltapath UC Solution: 
Cisco Phone Lifespan: The lifespan of Cisco phones is extended indefinitely with the same security protection, performance and functionality as previously. 
Interoperability with Different Brands: The UC Solution supports a variety of popular voice and video endpoints. As well as Cisco phones, it works with brands such as Avaya, Polycom, Mitel, and Alcatel Lucent.
Multiple deployment options: To meet different organizations' needs, Deltapath can supply appliances to be hosted in customer data centres, deploying in popular cloud such as AWS and Azure, or host on any VMWare, Microsoft HyperV, or Linux KVM hypervisors.
Business Apps Integrations: Business apps can be integrated, and add-on services are available. 
Free Deltapath Mobility Apps: Deltapath offers its mobile and desktop app for free so that users can work from anywhere.
Cheaper: The Deltapath UC Solution is a subscription-based service that is generally cheaper than Cisco maintenance prices for an on-premises system, and there are no additional licensing costs.
Liu told UC Today: "Our objective is to ensure that Cisco customers are well protected, without increasing their operating budgets. 
"They should be able to continue with their existing Cisco phones and have access to a platform that's continually upgraded with the latest collaboration and enterprise communication feature sets, mobility solutions, work from home solutions, and more." 
Last month, Deltapath unveiled its UC Service Provider Edition to meet the changing demands of service providers and offer them a white-label UCaaS solution backed by Deltapath technologies. 
Deltapath is a video-focused unified communications solution supplier founded in 2001. The company claims to remove the obstacles which prevent effective communication within organizations. 
 You can find out more about Deltapath's UC Solution.