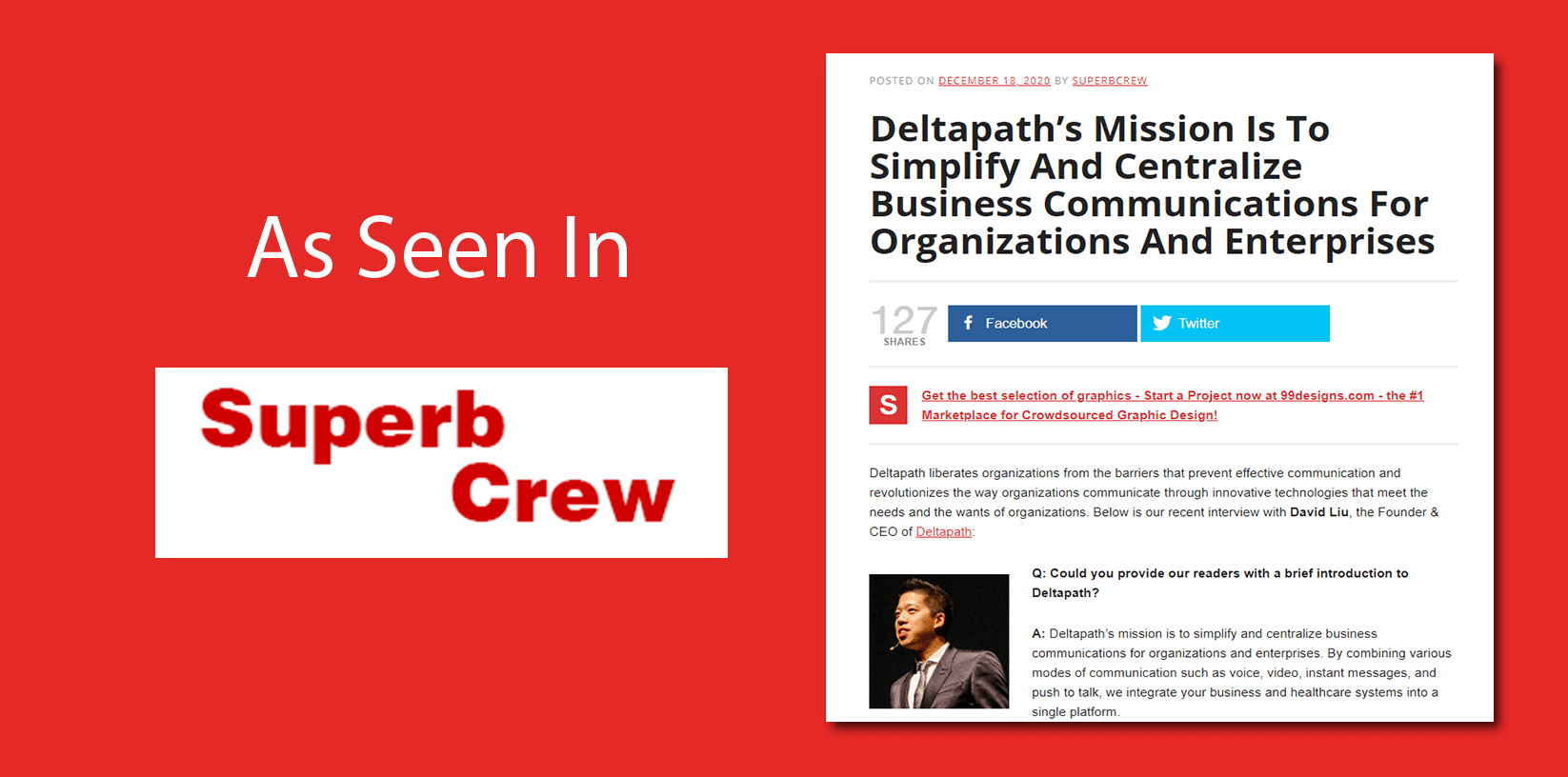 Deltapath liberates organizations from the barriers that prevent effective communication and revolutionizes the way organizations communicate through innovative technologies that meet the needs and the wants of organizations. Below is our recent interview with David Liu, the Founder & CEO of Deltapath:
Q: Could you provide our readers with a brief introduction to Deltapath?
A: Deltapath's mission is to simplify and centralize business communications for organizations and enterprises. By combining various modes of communication such as voice, video, instant messages, and push to talk, we integrate your business and healthcare systems into a single platform.
Deltapath empowers organizations to relay the right data to the right person at the right time, ensuring that time is not wasted and the message is accurate. Gone are the days of the Telephone game. I am sure you recall that no matter how hard everyone tried, the final recipient's message was almost always different from the original message. Accuracy and efficiency become increasingly important when vital decisions are to be made.
Q: You mentioned Deltapath is focused on re-imagining communications at healthcare facilities. Can you tell us more about that?
A: When it comes to healthcare, we understand that every second truly counts, particularly during a crisis when human lives are at stake. We leverage our technology to help healthcare providers communicate more effectively and efficiently.
In a healthcare environment, whether it is a hospital, long-term care facility, or nursing home, there are many pieces of data continuously being communicated at any given time. This includes, calls from patients, readings from sensors, lab reports, and various alerts, just to name a few. Nurses have to triage data by monitoring various lights at the nursing station and prioritizing patients' calls after understanding the nature of the requests. Next, these requests and all relevant information have to be relayed to relevant parties such as the resident doctor or a particular care team. In the event of an emergency, many healthcare providers still rely on pagers to relay a code blue emergency to the doctors, which is slow and one way only.
Our solution will alleviate that burden and relay the patient call to the right group of nurses and display the pertinent medical history, diagnostics, and purpose of the call right on the nurses' mobile device. Lab results that require an urgency for medical attention will get delivered to the responsible doctor's mobile device directly with a siren alert. When activating a code blue alert, the emergency message will go directly to the doctor on duty while connecting them to the microphone and speaker of a patient's bedside to guide the medical care team and immediately begin resuscitative efforts.
The first 180 seconds of cardiopulmonary arrest is the most critical. By shortening the time required to notify doctors (through phones/pagers) and starting resuscitative procedures before the doctor arrives, Deltapath's technology can significantly increase the chance of survival.
Q: Can you tell us why is it important to focus on healthcare solutions right now? Did the pandemic have any impact on the adoption of this new technology?
A: Before the pandemic, many countries such as Japan and the United States were already researching the future of healthcare communication systems due to the aging population and lack of medical professionals.
The idea is to utilize Deltapath's technology to remove unnecessary trips to the patient ward, reduce response time, and ultimately reduce caregiver fatigue to allocate more attention to actual patient care. Ultimately, utilizing our technology improves patient experiences and outcomes by allowing medical professionals to provide the best and most accurate patient care.
COVID-19 seriously tested the upper limits of all hospitals and healthcare facilities. Because of the unexpected and significant increase in incoming patients, hospitals had to find ways to increase their capacity overnight. Our technology helped to streamline communications and workflow, allowing hospitals to scale their capacity and save more lives.
Q: What can we expect from Deltapath in the next 6 months?
A: As we continue to evolve and innovate our healthcare solutions, we will be introducing more integrations such as medical IoT devices, electronic medical record systems, and various systems in hospitals and healthcare facilities to truly unify all communications and data that is being exchanged, centrally on our Deltapath Acute Mobile App.
Q: What's the best thing about Deltapath or what are you most proud of that people might not know about?
A: Internally, we always promote this motto "If you dare to dream it, we can achieve it". This is the attitude we have towards our customers as we re-imagine workplace communication. We invite our customers to ideate with us and talk about their challenges and their wishes. In fact, our healthcare solution was created in part due to an invitation from the Japanese government's Association for Medical Informatics to create the future hospital communication system back in 2013. With this attitude, we have won the respect and business from very reputable customers over other big brand names.