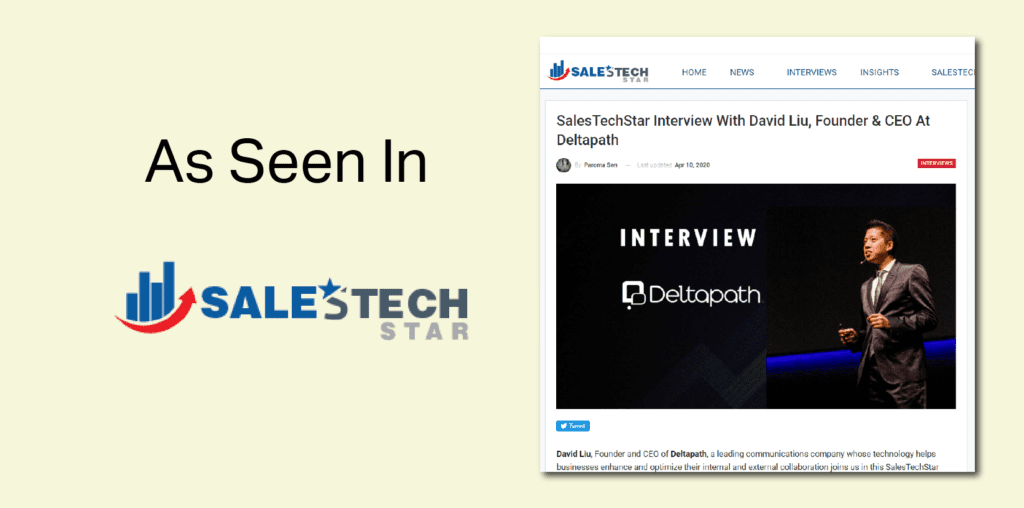 Can you tell us a little about yourself David? What inspired the idea for Deltapath, while starting up, what were some of the initial entrepreneurial challenges you faced?
The birth of Deltapath was actually an accident that came from my own personal experience. While I was in college, my parents were overseas and I needed a way to keep in touch and easily communicate with them. At the time, Skype and other video chat platforms did not exist, however, I wanted to use internet calling to save on expensive long distance costs because as a college student, I could not afford it. My parents were not really computer savvy and my mom in particular really struggled with technology, so teaching her to turn on a computer or use a mouse to make an internet call was definitely out of the question. As soon as I started calling my friends and family overseas, from what appeared to look like a local call, word travelled fast and everyone wanted to know what I was doing. When I recognized the demand for this type of call, I commercialized my efforts and made it one of the first business phone systems that used Session Initiated Protocol (SIP), which back then was the new industry standard.
I started Deltapath post dotcom crash when there was hardly any angel funding and the overall atmosphere for start-ups was very different. So for us, it was all about organic growth from the ground up, and it was never easy.
Like most start-ups, Deltapath faced challenges, one being that we were hiring the wrong people. Some people just needed a place to stay during the downturn in the economy, while some had intentions to start their own company. When we realized we did not have the right people, we completely changed the entire team. It was a very bold move, as it would be for any company, but more so for us because we were in the start-up phase. However, I believe it sometimes takes bold moves to create success, and changing the team proved to be the right decision.
Deltapath now serves global customers and leading brands in over 90 countries. Can you talk about some of your biggest learnings during this journey while also sharing some of your top strategies that helped establish your solution in the global marketplace.
As a small company attempting to go into global business, we don't have the luxury to fly people around the world to do installations, which is expected for a business' mission critical system. The typical business phone systems required an army of engineers at a customer site to punch commands into a phone to set-up the system. This is a costly process that makes customers anxious as they are totally dependent on the installer with no flexibility to manage their own system. With this in mind, I started focusing on the product design as a solution. At Deltapath, we had a vision of customers being able to pick up our product from Bestbuy, unbox it, rack mount it, and power it up with quick configuration through a web browser. This novel idea helped to shape the product we have today, which allows Deltpath's professional services team to remotely configure, manage, and deploy an entire enterprise communication infrastructure without physically being on a customer's site. This design philosophy also helped us to convince our customers they are capable of managing their system by themselves. As a result, we were able to be transparent and at the same time give customers more control over their own infrastructure.
Key Learnings:
When deciding on your company name, it is important to make sure the name translates into the local language of the market that you do business in. Make sure you take the time to do your research so that the name doesn't lose validity in translation. For example, the five star airline, All Nippon Airways, translates to "All Day Empty" in the Greater China market, leaving Chinese customers confused.
Once you have established your name, the next important thing to do is build your team. Building a foreign team is never an easy task. If you have already established processes and procedures from product management to support, then you can opt for the typical HQ and branch model. In this model, your foreign team will be led by a country manager who is proficient in English and reports to a US headquarter. But what if you are a startup entering a new market?
The traditional management model above is good when things are all setup — product pricing, strategy, roadmap, feature set, and commercial models. But if you are the new kid on the block, adopting the HQ and branch model will not only be costly, it will make you less agile and hard to adapt to your new markets. For example, as a startup, your product is constantly changing as the company adapts to new demands from the market and feedback from customers. Your commercial models and pricing may change quickly too. In these cases, the best management style is a single global team, which is easier said than done. A single global team means any job positions can physically be in different countries. You may have quality assurance engineers scattered across continentants, such as in Deltapath's case. We have engineers in Japan, Hong Kong, and New Zealand. All of these engineers report to the same manager, bearing the same responsibility, and collaborate on the same product. This not only brings in different perspectives, but also different cultures to prevent tunnel vision and promote higher standards and experience sharing. For example, the QA engineer in Japan typically promotes a higher Japanese quality standard and always encourages additional testing procedures and test cases to give absolute assurance and peace of mind, which is something that may not be expected or seen here in the US. By having a single global team, people are more aware of what's going on in the company,more likely to share with one another and develop a better understanding of the products, the company, and the market. In essence, this model eliminates the feeling of different countries doing their own job behind closed doors. It enhances transparency and promotes accountability. Your new team in the new market won't simply rely on "headquarters" for education, resources and directions. Instead, they are part of the engine to build the company together.
How have you seen the telecom-tech industry evolve over time? What are some of the latest innovations that according to you will be a game-changer for this niche?
The telecom industry has evolved from a monopoly and proprietary industry to a much more competitive and open standard world. Systems don't talk to each other and as a customer you don't get much control over your telecommunication systems. Manufacturers often force you to use their brand of phones and systems across all your desks and offices.
One of the latest game-changers is the adoption of AI in telecommunications. It is nice to be able to speak to an AI robot freely instead of listening to a long list of voice prompts to try and get to the right person or try and get the right task completed. We are also starting to evaluate AI further with transcribing and even analysis of meeting dialogues. In the coming future, you would expect a virtual assistant who takes meeting minutes with action items for you and allows you to search through previous conversations easily. The industry is also progressing with search by sound instead of text. Having call conversation recordings is one thing. Now think about searching through thousands of hours of recording to find a valuable piece of information — obviously not an easy task. While transcribing audio into text is possible, it can be a challenge with names, foreign languages, and uncommon words. A solution to that problem is allowing search by sound. So regardless of the language, as long as you can type out how a word sounds phonetically, you can find the audio recording.
When it comes to solving everyday communication challenges for global organizations, especially distributed teams, can you share some top best practices that have proven to help companies?
One of the classic communication problems at many global organizations is that no one seems to know how to get video conferences to work. The general perception that one requires IT to do pre-setup and testing before a meeting is discouraging employees to use video conferences. Another challenge is having to schedule meeting rooms that are equipped with video conferencing systems. To solve these challenges, each employee is given a virtual meeting room that is always available with no reservations required. Any meeting participants can pick up any office phone, mobile app, or video conferencing endpoint and simply punch in the meeting room number to join a meeting.
As instant messaging is becoming the norm in our everyday communication behavior, enterprises across the globe are also facing a dilemma. Should they permit employees to use their personal communication channels such as Skype, Whatsapp, Line, and Facebook Messenger to chat with their colleagues to communicate sensitive corporate data through third party systems? While it is convenient to just let employees use their favorite tools to communicate, it often creates a lot of concerns with privacy and security. Not all employees are comfortable sharing their personal cell phone numbers to the company, which is then added to Whatsapp. When an employee departs, that confidential data remains on their personal devices in their personal account. The problem is easily understood when employees use their personal gmail to communicate with each other. Hence, we see a lot of our global customers deploy an enterprise instant messaging system that is secured, encrypted, logged for compliance, and which can easily erase data from all personal devices when an employee departs the organization or when the employee loses a phone.
We'd love to dive into your thoughts on the evolving salestech landscape, what according to you will drive demand for specific tools and technologies for salespeople?
Salespeople are often on the phone while on the go. Typically sales people would have to apologize for the noisy background and request to call the customer back later in a better environment. Reality is its difficult to be stationary in a quiet environment. With the amount of calls coming in/out, it's easy to forget and leave an important customer hanging. One of the most important tools for salespeople is an all-in-one communication app that can eliminate noisy background so they can sound professional to their customers regardless of where they are, a bar, a train, or driving with the windows opened. The same tool should also support good microphone pickup while on speaker mode without sounding like you are talking from a distance.
What are some of the common pain points you observe in technology sales and how would you advise sales teams optimize/overcome these challenges by optimizing use of their sales tech stack (and how).
It is very typical for sales people to work on multiple systems. For example, a CRM system may keep track of leads and quotations while the ERP system keeps track of orders and inventory. Data doesn't automatically flow from one system to another. Certainly, it doubles your time spent to look up data from multiple systems in order to help your customers on the other line. As a result, it is important to integrate your communication channels and business systems so that when the phone rings, the salesperson already has all the information about the customer, quotations, support tickets, order history so they can provide a white glove service and wow the customers.
Tag (mention/write about) the one person in the industry whose answers to these questions you would love to read!
Tony Hsieh, CEO of Zappos
Could you share your favorite Sales/SalesTech quote and also some of your favorite entrepreneurial / leadership/ sales books that have been a valuable read!
Delivering Happiness – A path to profits, passions, and purpose by Tony Hsieh, CEO of Zappos
This is a great book to be inspired with. My favorite part of the book was reading how Tony, having received 32 million back in 1998 in a Microsoft acquisition, decided to step out of his comfort zone and liquidate every asset he had, including the condo he was living in, to invest into Zappos. This bold move is easier said than done when you have everything to lose.
We'd love to know a little about your future plans, especially future plans for Deltapath!
Deltapath is about helping organizations to relay the right data to the right person at the right time. In the coming future, we will be working closely with healthcare technology companies to combine IoT with communication to deliver a better quality of life for elderly people and save lives at the hospital.